Brewery: 21st Amendment Brewery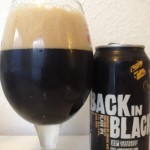 Black. The most achromatic of colors. Black is the color of objects that refuse to reflect light in the visual spectrum (or, if you're a Nina Simone fan, "the color of my true Love's hair"). The word black comes from the Old English "blæc" (meaning "black, dark", or "ink"). Most of my T-shirts are black (and I'm willing to bet most of yours are as well). The French word for black is noir, which in turn names the genre of dark detective and dangerous dame novels, stories, and films that began to be published and produced beginning in the late 1920s. Some folks like black metal, whereas for others, it's not so black and white. Back in Black, on the other hand, is the 1980 album by Australian rockers AC/DC, their first without singer Bon Scott, and the third best selling album of all time.
With that in mind, tonight I'm having a can of 21st Amendment Brewery's Back in Black, a black IPA "Inspired by Paul Revere's midnight ride," and "brewed with rich dark malts" promising 65 IBUs and 6.8% abv, and featuring an image of the famous Boston silversmith and militiaman (and Beastie Boys song title) on its label. I'm still a little on the fence with regards to canned beer, but 21st Amendment seem to do canned beer right, so in this case I'll look past my bottle snobbery and enjoy a crisp, cold one.
Back in Black pours deep mahogany–almost, but not quite, black–with a huge, dense tan head that leaves behind scattered striated lacing. Malt, roasted grain, coffee, and chocolate on the nose, with undertones of pine and citrus hops. Taste follows scent: sweet, bittersweet chocolate malts and bitter hops dominate, with touches of orange, copper, and smokey roast coffee. Creamy, porter-like texture, with moderate carbonation. Velvet-smooth, mellow, and robust, with a dry, bitter, hoppy finish that leaves you wanting more.
Originally reviewed on 03/01/12 at Bizarro Central.