Brewery: Abita Brewing Co.
Style: German Pilsener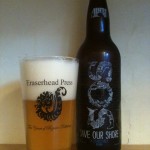 Caveat: I'm not typically a lager kind of guy, but I liked the look of this bottle.
Abita Save Our Shore has a head like a big, white, fluffy cloud. It's bitter and grassy up front, with a decent overall mouthfeel including lots of carbonation. But it doesn't quite hit the anticipated level of hoppy spiciness and the biscuity, malty finish is spoiled by a damnable lager soapiness at the very end. Supports a fair cause–seventy-five cents from every bottle goes to the SOS Charity Fund–but not a likely repeat for me.