Brewery: Ballast Point Brewing Co.
Style: Witbier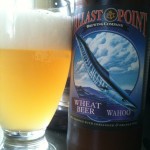 After I tried Ballast Point's Sculpin IPA, I determined I'd try whatever I could from them. Tonight, Wahoo. What's a Wahoo? Looks like a flying barracuda on the label.
Wahoo pours pale, cloudy gold with a thick finger of white, frothy head and cascading lacing. Wheaty–doughy, even–on the nose, with coriander and citrus close behind. Highly carbonated and creamy. Citrus tang, bready, malty sweetness, and spiciness on the tongue. Refreshing, with coriander and orange emerging at the finish. Not quite a Hefeweizen, more of a witbier with attitude. I think I should have gone deluxe and added a frosted pilsner and a slice of orange, but tasty right out of the glass.