Brewery: Bear Republic Brewing Co.
Style: Double/Imperial IPA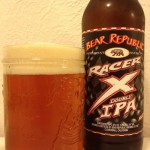 "Got a big white X / On the top of his car / Rex keeps his speed / In a little glass jar…" –Big Black, "Racer X"
I am unabashedly a fan of Speed Racer (Mach GoGoGo), the late 1960s anime series focusing on the adventures of race-car driver Gō Mifune (AKA Speed Racer, voiced in English by Peter Fernandez) and his hard-driving family, including his incognito older brother Rex, better known as the masked Racer X. And while drinking and driving definitely don't mix, there is a certain appeal to knocking back a cold one while enjoying the vicarious thrills of fast cars, intrigue, sabotage, and a pretty girl with her own helicopter.
So tonight, I'm cracking open a Racer X Double IPA, just released by Healdsburg, California's Bear Republic Brewing (and, I understand, a little hard to find… unless you shop at Petaluma Market), which promises to "put a California twist on English brewing traditions by adding an assertive hop aroma and bitterness that compliments the firm malt backbone." Bear Republic already produces one Speed Racer-inspired IPA, the very tasty Racer 5, so this NoCal Adult Beverage holds plenty of promise.
Racer X pours bright, clear orange, with a pronounced, two-finger head and plenty of striated lacing. Hoppy, tropical nose: citrus, mango, and pine, with a warm alcohol undertone. Taste is malt sugar and pine, with a boozy kick and notes of honey, pine resin, and toffee. Very nicely balanced; smooth, heavy body and aggressive carbonation. Dry finish, with bready, malty aftertaste. Racer X is obviously Racer 5's harder-driving big brother, even if it is going to take him a few seasons to figure it out.