Brewery: Dogfish Head Craft Brewery
Style: Pumpkin Beer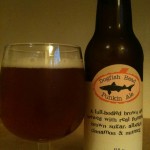 I've had Dogfish Head Punkin Ale recommended to me a few times lately. Not one to ignore a testimonial, not to mention being a fan of Dogfish Head's other offerings, I had to try it. This one's "a full-bodied brown ale brewed with real pumpkin, brown sugar, allspice, cinnamon, & nutmeg." And how can you not like the "punk" pumpkin on the bottleneck?
Feel lucky, punk? As a matter of fact, I do…
The moment I cracked open the bottle, Punkin Ale hit my sense of smell with the delightful sensation of pumpkin pie fresh out of the oven. Nutmeg, cinnamon, and plenty of pumpkin. Punkin pours a rich Halloween orange, with a thin, fluffy, tan head. Retention is a ring of eyes circling the glass, and lacing is minimal. Taste follows scent, adding brown sugar, allspice, pepper, and cloves to the pumpkin and nutmeg. Bready and yeasty, with quite a bit of carbonation. Some hoppy bitterness, but pumpkin and spice are primary. Smooth, dry finish. Would have paired nicely with a pumpkin pie from Petaluma Pie Company.