Brewery: Full Sail Brewing Co.
Style: Dubbel
Series: Brewmaster Reserve Series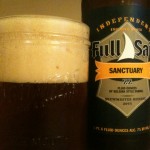 I started the day out right, wandering downtown with Maddie and Jennifer after breakfast, stopping by Acre for a bittersweet (soy) mocha, checking out the Dia de los Muertos window displays, and then heading back home for some serious reading. Now I'm enjoying a Sanctuary–a Belgian-style Dubbel from Hood River, Oregon's Full Sail Brewing–with music on the TV and a bit more reading planned. How's Sanctuary stack up? Let's see…
Sanctuary pours a deep amber-brown, with a finger-thick lunar landscape of a head. Nice retention, minimal lacing. Fruity and yeasty on the nose; persuasive suggestions of spiced apples and pears. Malt sugar, biscuity Belgian yeasts, and toffee on the tongue. Thin mouthfeel, but plenty of complicated flavor. Fizzy carbonation. A touch of hop bitterness. Clean finish. Very enjoyable and easy-drinking.