Brewery: Firestone Walker Brewing Co.
Style: IPA, West Coast IPA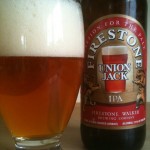 Firestone Walker Brewing Company claims "Passion for the Pale" on Union Jack's label and it wears their medals on it's cap. Plus, lion vs. bear fisticuffs and a proper British pint are their logo. You've got my attention, Firestone. But is it hubris or street cred? Let's find out…
Union Jack pours bright gold with a thick, active head that prettily paints the glass; I see a dragon, a bird, and the Battleship Yamato. A subtle nose: malt, caramel, and orange zest. Just enough carbonation to wake up your tongue. Sweet and fruity. Caramel and malt with a crisp hop bitterness. Clean finish. Citrus aftertaste. Very nice. A perfectly balanced California IPA.
Oh yeah. This is a medal-winner. Smooth and drinkable. I'm going to have to delve a little deeper into Firestone's catalog.