Brewery: Green Flash Brewing Co.
Style: Red Ale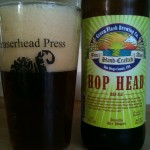 A day spent fretting over a manuscript in need of repairs while Jennifer designed Cthulhu postcards left me wanting a brisk, bold beverage. So we ordered pizza from The New Yorker and hit Petaluma Market, where I picked up a Green Flash Hop Head Red Ale. 45 IBU? Sign me up.
Hop Head Red Ale pours a deep red-brown, with a head like a dollop of whipped cream on top of a hop sundae from hell. Labyrinthine lacing. A fistful of hops to the nose, smoothed out by warm caramel malt and a touch of citrus zest. Sweet and malty up front: Bitter brown sugar biscuit on a light wave of carbonation. Tongue-tingling, bitter finish that lingers against the back of the throat. Very pleasant.
Note: In August 2011 the recipe was altered to bump the IBUs from 45 to 70. The ABV also increased from 6.4% to 7.0%.