Brewery: Green Flash Brewing Co.
Style: Tripel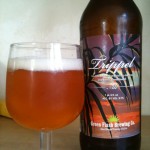 Sunday night is upon us, leaving me wondering where the weekend went. I'm not sure I'm ready for tomorrow to be Monday. I had about eight hundred thousand words I was hoping to read. Instead, I read about eighty thousand, maybe I'll hit a hundred tonight. Fortunately, most of those were the right words. So I'm pouring a "modern all-malt trippel dry-hopped and bottle conditioned" for words spilled and all those words yet to be read.
Green Flash Trippel pours muted glowing amber, thin-headed and visibly carbonated. Line graph lacing details triumphs and tragedies on the glass. Sugar and brandied fruit on the nose. Pleasantly yeasty. Fruit on the tip of the tongue, followed by bittersweet bready yeast and honey. Substantive mouthfeel with roiling carbonation. Lasting bitter antiseptic alcohol finish. More Californian than Belgian, but a unique take on the trippel. Dangerously drinkable.