Brewery: Devil's Canyon Brewing Co., Knee Deep Brewing Co.
Style: Saison
Series: Collabeeration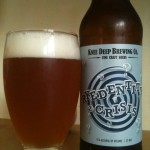 Another week of juggling manuscripts in various states: rough drafts to polished prizes to final corrections. All to make sure they do one thing: communicate a story without stumbling. What I do requires a whole lot of trying to get into authors' and editors' heads, trying to glean the motivation and meaning behind the words. It's almost enough to give one an identity crisis. But then the weekend comes along, and I can at least pretend to turn it off. Oh, who am I kidding, the moment I post this, I'm going back to reading. But I'm reading with a libation at hand: Knee Deep Ryedentity Crisis, a "rye saison." How is it?
Ryedentity Crisis pours light, cloudy straw with a dense, short off-white head. Little retention, a ring around the edge of the glass, and no lacing to speak of. Pears and sweet, musty rye on the nose. Sugary rye and cereals on the tongue, with a building fruitiness. Medium body with soda-pop carbonation. Sweet finish with a gradual residual bitter aftertaste.