Brewery: Lagunitas Brewing Co.
Style: Weizenbock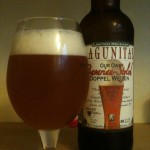 A lot of reading today, but still managed to fit in a couple of shorts. Today's theme: Yellow: Charlotte Perkins Gilman's "The Yellow Wallpaper" and Robert W. Chambers's "The Yellow Sign." Decadent, Yellow, madness. I needed to choose an adult beverage that hit a high mark.
Lagunitas Bavarian-Styled Doppel Weizen sets the tone with bananas on the nose. Thick-headed, bright, and golden; over time, the head decays to a hurricane eye with occasional punctuations of lacing on the glass. Sweet and fruity on the tongue, full of yeast, with an antiseptic alcohol burn along the roof of the mouth. Creamy. Bitter below the tongue and against the back of the throat. Crisp finish.