Brewery: McMenamins
Style: Pale Ale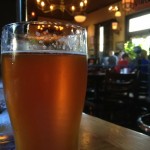 I'm on the road this week, driving to Seattle for the 2012 Locus Awards. I'm also taking my niece and nephew to a Giants/Mariners game while I'm in town. Should be a whole lot of fun. Night Shade have a couple of horses in the Locus Awards race, notably first novels God's War from Kameron Hurley and Soft Apocalypse from Will McIntosh, and the outstanding (if I do say so myself) anthology, Eclipse Four, edited by Jonathan Strahan. So I'm cheering on the home team, and any excuse to watch a ballgame is a good one.
Midway between the San Francisco Bay Area and Seattle sits Roseburg, OR, a town that had an eight-block section leveled in 1959 by an exploding dynamite truck. Fortunately, they've been free of further dynamite truck explosions for fifty-three years. So after eight hours on the road, I'm spending the night at a hotel that has also been slept in by (if the autographed 8-by-10 glossies in the lobby are to be believed) Joan Jett, a bunch of country-western stars, and a handful of NASCAR drivers. Rock and/or roll. I'm a big fan of the credo, "act globally, drink locally." So with that in mind, tonight I'm having a Copper Moon at the McMenamins Roseburg Station, a converted Southern Pacific train depot. McMenamins also run the Edgefield near Portland, host hotel for BizarroCon. If you're a fan of good beer and better books, BizarroCon is a must-attend on your literary social calendar.
Copper Moon pours deep golden amber, with a thick, white, fluffy head that clings to the glass, leaving lovely clumps of lacing. Floral on the nose: orange blossoms, caramel, nuts, hops. Malty and crisp on the tongue, sweet, but with a nice, bitter, hoppy bite. A pale ale with just enough of an IPA kick. Full-bodied, with a piney, resiny aftertaste. Refreshing. Well worth the drive.
Originally reviewed on 06/14/12 at Bizarro Central.