Brewery: New Belgium Brewing Co.
Style: Sour Ale
Series: Lips of Faith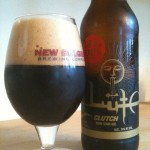 I spent the nineties running a record store. Some would say into the ground, but I insist it was those far above me who had chosen that trajectory with their hedonistic ways and questionable life/business choices. But that pretty much epitomizes the decade.
You know what else epitomizes the decade? A record store that didn't carry vinyl.
Know what else? Clutch, a rather heavy rock and roll band from Germantown, Maryland. 1993's Transnational Speedway League: Anthems, Anecdotes, and Undeniable Truths and 1995's Clutch belong in any comprehensive collection with a focus on the ponderous, but 1998's The Elephant Riders? Transcendent.
I lost track of Clutch (other than the occasional video game appearance) after the dawn of the current millennium, but a few months ago they got my attention again. Lately, Clutch has teamed up with New Belgium to conjure up their latest Lips of Faith offering: Clutch Dark Sour Ale, an adult beverage promising "Pure Rock Fury meets Belgian-style brewed folly" and "a pronounced bass line of dark chocolate, coffee and black malts" bridging "the sourness of our dark wood ale for a fluid riff." The nineties were a long time ago, does Clutch still offer Pure Rock Fury?
Clutch starts off on the right foot, with a hiss and dribble as you crack open the bomber. Pours Coca-Cola black with a thick, toffee-colored head that falls gradually, leaving impenetrable caverns, then shambling shoggoths in the lacing on the glass. Dark chocolate cherry cordial on the nose, with dark-roasted coffee, oak, and smoke underlying. Taste follows scent: chocolate covered cherries, black coffee, and malt sugar, with bitter lemon on its heels, scraping the palate with a touch of carbonation. Neither too bitter nor too sour; aggressive, but very evenly balanced. Less heavy mouthfeel than expected from the stout/porter color and viscosity. Instead, it's actually quite creamy, similar on many levels to–but fruitier and woodier than–New Belgium's 1554 Enlightened Black Ale. Dry, tart finish. I don't think it's something I'd imbibe on a regular basis, but this is definitely a beer worth turning a few friends onto. Pure Rock Fury? Oh, yeah. I think I'm going to have to go listen to "The Elephant Riders."