Brewery: Elysian Brewing Co., New Belgium Brewing Co.
Style: Fruit Beer, Pumpkin Beer
Series: Collabeeration, Lips of Faith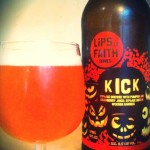 It's finally Fall, or so we discovered on our walk downtown this morning. Steelgray skies, the scent of rain in the air, leaves scattered on the ground. Halloween's around the corner. And, of course, Petaluma's autumnal bookends: the Antique Faire and the Petaluma Progressive Festival, were this weekend. We browsed the nicknacks, wandered through Copperfield's, picked up coffee, then pie for lunch, and finally meandered home, passing sonorous speechifications emanating from Walnut Park, to read and watch a disappointing baseball game. Now we're settling in, watching Fringe, and I'm sampling a New Belgium Kick, a "ruby-Hued, slightly-sour, pumpkin, cranberry ale." This may be my favorite label of the year, with its grim, grinning pumpkinheads. But is Kick "a treat that does the trick"? Or is it a bag of flaming dog poo on the doorstep? Only one way to find out…
Kick pours a bright jack-o-lantern orange, with a half-finger head that doesn't bother to stick around. Cranberry on the nose, with a light, toasted malt aspect. Where's the pumpkin? Admittedly, part of "where's the pumpkin?" is "where's the nutmeg?", so there might be pumpkin lurking beneath the overwhelming cranberry, it's just hard to discern. Sour against the tip of the tongue, cranberry cider, white wine, and pumpkin bread; fruit, spice, and yeast. Moderate carbonation, complementing the sour. Lightweight. Bitter finish with lasting back-of-throat burn. No notable lacing. As much fun as kicking a lit jack-o-lantern down the street? Absolutely!