Brewery: Allagash Brewing Co., New Belgium Brewing Co.
Style: Sour Ale
Series: Collabeeration, Lips of Faith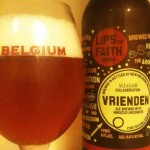 Perfume on the nose; fruity and floral with hibiscus right up front. Pours deep red with an elegantly collapsing head. Contrails on the glass. Tastes like agua de jamaica–carbonated agua de jamaica. Sweet. No bitterness. Awesome that way. Creamy mouthfeel. Had it with chili and cornbread Would be perfect with mole or huevos rancheros.