Brewery: North Coast Brewing Co.
Style: Belgian Strong Pale Ale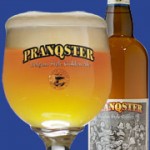 Last Friday, I had a gangster. Tonight, I'm having a PranQster, North Coast Brewing Company's Belgian Style Golden Ale. I love a good California Belgian, and this one promises "antique yeast strains, producing a floral nose, full fruity flavor, and a clean finish." Sounds fun. Or will it pull the chair out from under me?
PranQster pours clear gold with a slim finger head that quickly bubbles down to a white skim and tiny spouting horns of lacing. Yeasty and sweet on the nose, coriander naan. Sweet and fruity up front, toasted sugar and sugared toast. Creamy, but tart with roiling carbonation and and a bright, bitter crest. Playful… with a kick.