Brewery: Rogue Ales
Style: Brown Ale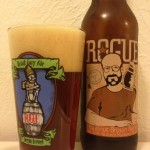 The one thing I love more than a good beer recommendation? A good beer recommendation I can actually find. So when Constance Ann Fitzgerald, author of Trashland A Go-Go and fellow Petaluma resident, told me that I not only needed to try Rogue Hazelnut Brown Nectar, but that they had it at Wilibees, I headed right over to pick up a bomber.
After all, Rogue make outstanding beer. Last year, Jennifer, Maddie, and I rambled up to their brewery in Newport, Oregon for the Brewer's Memorial Ale Fest and had an outstanding time (beer, music, and dogs–how can you possibly go wrong with a combination like that?). And while I'm not going anywhere near their Voodoo Bacon Maple nightmare anytime soon, I'm usually willing to give them the benefit of the doubt.
Hazelnut Brown Nectar pours ruby-brown with a full–but quick–tan head that leaves behind a clean glass. A nose full of nuts in this one, fresh-ground hazelnuts toasted and caramel-coated. Hazelnut brittle on the tongue; this beer is like candy: toffee, caramel, cocoa, brown sugar, and, of course, nuts. Low carbonation, medium body. Spicy hops lend a slightly bitter finish. Well balanced. I'm half tempted to try this one with a scoop of vanilla ice cream next time. If you're nuts for nuts, this one's gonna make you smile.