Brewery: Sierra Nevada Brewing Co.
Style: Barleywine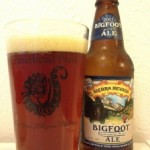 Feet. Amazing things, aren't they? They're a ticklish subject, and it's true we walk all over them, but without our feet, without those seven tarsal bones, five metatarsals, and fourteen phalanges (not to mention the tiny sesamoid bone in the big toe), we wouldn't have a leg to stand on.
Feet are very much a part of our cultural identity and language. If doubt causes you to abandon your plans, then you've got cold feet (thank author Stephen Crane, and his novel, Maggie, A Girl of the Streets, for that one). Soldiers during the Civil War marched to a chant of "hay foot, straw foot" because they didn't know right from left. Some refer to their feet as "dogs," as in "my dogs are tired," which comes from Cockney slang rhyming "feet" with "meat" as in "dogs' meat." When someone dies, we bury them six feet deep. If your arch collapses, you've got flat feet, but if you've got flat feet, you're likely disqualified to be a police officer, also known as a flatfoot. "Footy" is a desirable characteristic in exotic cheeses. Beer, not so much. Don't even get me started on the foot fetishists (you know who you are).
And even though there are twelve inches in a foot, some feet are bigger than others.
Which brings me to Bigfoot. Also known as Sasquatch, the Redneck cousin to the Tibetan Yeti–better known as Abominable Snowmen–and mysterious Mi-go (those fun guys from Yuggoth), Bigfoot is perhaps the best-known American cryptid. Big, hairy, ape-like, and notoriously difficult to photograph clearly, Bigfoot wanders the Pacific Northwest on his six-toed, two-foot feet, confounding cryptozoologists and monster truck enthusiasts since the early 1920s.
Commemorating the big brute, Chico, California's Sierra Nevada Brewing Co. has come up with Bigfoot Barleywine Style Ale, a gold medal-winning barleywine boasting "a dense, fruity bouquet, an intense flavor palate, and a deep reddish-brown color" with "big maltiness balanced by a wonderfully bittersweet hoppiness." Sounds delicious, but I'm used to barleywines like Lagunitas Olde GnarlyWine and Stone Old Guardian. Let's see how this one stacks up.
Bigfoot pours a bright, outstandingly clear burnished copper with a thin white-tan head that quickly dissipates, but leaves clumpy, abstract bas-reliefs of lacing on the glass. Toasted malt, caramel, and earthy yeasts on the nose, with aspects of fresh pine cones and lemon peel. Pine and citrus hops on the tongue, aggressively bitter, with notes of sweet caramel and English toffee tempering and evening out the bitter bite of the hops. Warm alcohol is very noticeable… but at 9.6% ABV, it ought to be. Mouthfeel is smooth and creamy, with plenty of carbonation, complex and peppery against the back of the throat, and a dry finish that leaves you wanting more.
Originally reviewed on 02/23/12 at Bizarro Central.