Brewery: Stone Brewing Co.
Style: Belgian Strong Pale Ale
Series: Vertical Epic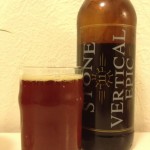 It's been a wonderful Saturday, starting with a drive (down to The Country Vet, but you take what you get) with Jennifer and Maddie, moving from there to a bit of shopping (although the lamp I bought didn't work), then to a little bit of work (more corrections), followed by a Maddie-led walk downtown (Straight to Petaluma Pie and Copperfield's Books… what a dog!), and ending up in my chair reading a few stories, including the impressively chilling tales by Joseph S. Pulver, Sr. and Genevieve Valentine from the inaugural issue of Phantasmagorium. And, rumor has it, there still may be a slice of Maddie-versary sweet potato pie for dessert.
Beyond that, I'm having and (finally) reviewing Stone 11.11.11 Vertical Epic Ale, which has been available for a couple of months now. I know what you're wondering, "how's it stack up?" First, a little backstory…
For the last decade and a dime, Escondido's Stone Brewing has been producing annual Vertical Epic Ales, released on those days when all the numbers on the calendar line up (01.01.01, 02.02.02, and so on, the series culminating with this year's 12.12.12). Last year's offering, 11.11.11, is an "Ale Brewed With Anaheim Chilies and Cinnamon." I'm a little late, but how is it?
Stone 11.11.11 Vertical Epic Ale pours a rich, chestnut brown, with a thin, tannish, quick-falling head. Cascading lacing and noteworthy viscosity. Green chilies, cloves, and cinnamon on the nose, with strong suggestions of malt sugar, banana, pear, and Belgian yeast. Tongue follows taste: cinnamon and cloves, then warm, sweet chilies, nutty grains, and a bitter, spicy, dry finish. Lightweight mouthfeel, like thin syrup with active carbonation working overtime to spread the flavors around. Nicely complex, with plenty of bite.