Brewery: Baird Brewing Co., Ishii Brewing Co., Stone Brewing Co.
Style: Double/Imperial IPA
Series: Stone Collaborations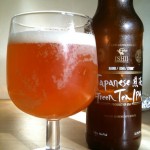 A beautiful day. We wandered down to Walnut Park to check out Art in the Park (and may head back tomorrow), then came home, read awhile, and are now watching the Giants/Dodgers game, post-dinner. I'm having a Stone Japanese Green Tea IPA, a collaboration between Stone Brewing Company, Tashi Ishii, and Bryan Baird. I've had a green tea beer once before, one of a flight of micro-brewed exotics I sampled while visiting a pub in Montreal with a bunch of writers and editors. That one failed to impress, too much sweet tea and not enough substance, but I trust Stone to provide a beer with plenty of bite.
Stone Japanese Green Tea IPA pours a sunny, opaque orange with visible carbonation and sediment lurking at the bottom of the glass. A finger-thick head falls quickly, leaving a ring of white bubbles cresting the perimeter and no lacing. Green tea, lemon, and peach on the nose. Bitter peach on the tongue, followed by sweet malt, bitter hops, and (of course) green tea. Bitter as expected from a Stone IPA, but smoothed out by fruity green tea. Creeping alcohol warmth. Heavy mouthfeel, with moderate carbonation and antiseptic high-octane burn. Pleasant overall, but I remain convinced that beer and tea are two beverages best enjoyed separately.