Brewery: Stone Brewing Co.
Style: Porter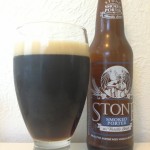 When did "vanilla" start to define the mundane, the ordinary, the conventional? After all, there's nothing vanilla about the history of this rare spice. First cultivated by the Totonacs, residents of what is now Veracruz, Mexico, the tlilxochitl ("black flower") is said to have first grown on the spot where Princess Xanat, on the lam with a forbidden lover, was beheaded, the vanilla orchids and vines sprouting from where her blood fell. Later, after the Aztecs conquered and subjugated the Totonacs, they developed a taste for vanilla, as did the crew of Spanish conquistador Hernán Cortés (Neil Young fans may know him as "Cortez the Killer"), who brought the rare spice back to Europe, where it spent the next few hundred years becoming a spice cultivated throughout the colonized world. Vanilla, it seems, fueled the fires of Empire (sounds like a steampunk plot point to me).
So tonight, I'm having a Stone Smoked Porter w/ Vanilla Bean. Stone Brewing is anything but "vanilla," having spent the last sixteen years working their way to the top of the SoCal craft brewing scene.
Stone Smoked Porter w/ Vanilla Bean pours a deep, old-piano mahogany brown with a finger-thick tan head and delicate lacing. Wonderfully aromatic, with vanilla at the forefront, alongside notes of chocolate, coffee, and smoke. Smells like dessert. Smoky, roasted malt and barley on the tongue, sweet and complex (and perhaps a hint of burnt toast), complementing well the vanilla, bitter espresso, and dark chocolate aromatics that carry through. Medium bodied, a little thinner and more refreshing than I expected. Bittersweet finish, with lingering vanilla against the palate, and a touch of smoke against the back of the throat. I'd definitely enjoy one of these again.
Originally reviewed on 08/23/12 at Bizarro Central.