Brewery: Trader Joe's Brewing Co.
Style: Double/Imperial IPA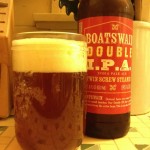 Friday night seems to be as much about celebrating the things you managed to get done over the course of the week as it is about recognizing that there were a few things that just plain aren't going to get done, things that are just going to have to wait for Monday.
In that spirit, I'm marking this Friday night with a Boatswain Twin Screw Steamer Double IPA, a $2 bomber from Trader Joe's. Apparently, this is a TJs repackaging of Wisconsin's Rhinelander Imperial Jack Double IPA.
Twin Screw Steamer pours pale amber, with a couple fingers of tan head that dissipates quickly, but leaves a scattered lacing on the glass. Hoppy, malty nose, with a wet, woody, earthy undertone. Malt sugar on the tongue, too sweet, tempered and complemented by hop bitterness, but ultimately dampered by an overwhelming wet, medicinally boozy, coppery flavor. Floral, perfumey tones emerge as this one warms. Light to medium body–a little watery–and not particularly complex. Sweet finish, with a lasting, citrusy roof of mouth bitter aftertaste and a little bit of metallic face cramp. You won't mistake this for a West Coast hop bomb. Not bad for a couple bucks at Trader Joe's, but not a great IPA by any means.