Brewery: Alameda Brewing Co.
Style: Stout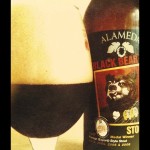 Right now, I'm reading the first-draft manuscript of Bradley P. Beaulieu's The Straits of Galahesh, his sequel to this year's critically-acclaimed Russian-inspired epic fantasy novel, The Winds of Khalakovo. Even in its current rough form, this book's awesome, and I'm really looking forward to giving you the opportunity to read The Straits of Galahesh in Spring of 2012.
But reading Straits all day has left me a bit thirsty, in the mood for a Russian Imperial stout. Good thing Farb and Christine brought this Alameda Black Bear XX Stout when they were down last week. And who can resist a handsome, well-dressed bear, particularly one adorned with medals?
Black Bear XX pours deep, rich brown-black with a thick, cocoa-tan head. Sea-dragon lacing. Roasted malt, rich chocolate, and espresso on the nose. A decadent berry emerges as it warms. Turkish coffee on the tongue, sweet and rich and bitter. Bitterness attacks the palate on a wave of unexpected carbonation, aggressive and playful as it cascades down your throat. Wickedly smooth, with a lasting bitter crispness. This bear's got a gruff growl, but turns out to be rather cuddly.