Brewery: Black Diamond Brewing Co.
Style: Double/Imperial IPA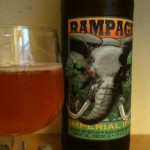 Got to love the amber-eyed elephant stomping through the hops.
Black Diamond Rampage Imperial IPA is hoppy and malty, with suggestions of citrus and pine. Understated bitterness, with enough carbonation to tickle the tongue. Minimal lacing. Refreshing, but I'm not entirely convinced it lives up to the promise of the elephant on the label.