Brewery: Black Diamond Brewing Co.
Style: Dark Wheat Ale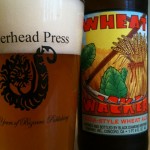 It's been a beautiful summer day. I read a few short stories for pleasure, walked Maddie down to Wickersham Park and back, and wandered downtown with Jennifer to check out the annual sidewalk sale. Now, we're settling in for the night and watching the Giants/Brewers game on TV while I crack into a Black Diamond Wheat Wacker India-Style Wheat Ale, apparently an "experiment in the Belgian fashion." Wait, what? Is it a wit? Is it an IPA? Is it some unholy offspring of the two? Only one way to find out.
Wheat Wacker pours a light, hazy red-gold with a loose finger of quickly-dissipating head and a touch of lacing. Cloves and grassy hops on the nose, with a distinct yeast undercurrent. Fruity and complex up front–apricot and lemon zest–with carbonation bubbling atop the tongue. Yeasty finish, with a back of throat bitterness that's just a little bit off. Reminds me of Coney Island Sword Swallower, with a similar disquieting landing. Belgian? Maybe. Belchin'? Definitely.