Brewery: Coronado Brewing Co.
Style: Double/Imperial IPA, West Coast IPA
ABV: 8.5%

Size: 22 oz bottle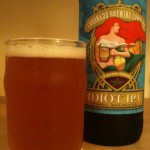 It's been a good week, with a handful of projects resolving nicely, good reviews on a couple of books I've recently worked on, and an e-mail to let me know that my short-short story "Jamie" will be appearing in next week's issue of the North Bay Bohemian and that I'll be reading the story at the Java Jive event at the Sebastopol Copperfield's next Wednesday. Time to officially kick off the weekend with an adult beverage, a bit of reading, and Fringe on TV. And I think I've picked a solid candidate: Coronado Brewing Company's Idiot IPA, a "West Coast-style double IPA. Brewed large, with four hop varieties, creating an assertive, over-the-top hop experience." And it's got a red-haired mermaid clutching a flagon on the label. Will Idiot IPA hit the spot, or leave me feeling like a… Well… You know…? Let's find out…
Idiot IPA pours a pleasant, clear gold with a thin, off-white, bubbly head that leaves sticky sky-islands on the glass. Fruity on the nose: orange zest, lemon rind, and grapefruit, along with bready malts, robust, piney hops, and honey. Hops and citrus on the tongue, complex and fruity–orange, pineapple, and peach–with a notable (but not overwhelming) bitterness and a nice crisp bite. Medium body with a lot of carbonation and a dry, lasting, bitter finish. Everything I expect from a SoCal Double/Imperial IPA and then some. No idiocy here, just a damn good beer.