Brewery: Victory Brewing Co.
Style: Double/Imperial IPA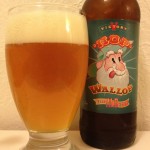 Once home from my adventures at the San Francisco Writers Conference, I cracked open a Hop Wallop from Victory Brewing, purchased as much for the cartoonish prospector on its label as for the promise of a DIPA.
Hop Wallop pours a clear golden with a two-finger head, not much retention, but plenty of sticky, foamy lacing. Biscuity and floral on the nose, with tropical notes of pineapple and grapefruit contrasting against piney hops and toasted grains. Citrus and pine on the tongue; aggressively bitter, but with candied malt tempering the harsh edges and warm alcohol burn. Nicely balanced. Lightweight mouthfeel, tongue-tingling carbonation, and a sweet, citrusy finish. Comparable to Sierra Nevada Torpedo IPA, but with a little more octane and kick. Worth sampling.