Brewery: Jester King Craft Brewery
Style: Saison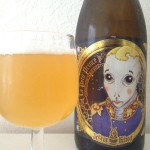 I've been traveling lately, so it's good to get back home. But it's hot at home. Summer is in full swing, the solstice is here, and so the last few days have been spent hiding from the sun with the fans on and the lights off, in a semi-successful attempt to keep cool.
Fortunately, I recently discovered Le Petit Prince Farmhouse Table Beer, a saison brewed by Austin, Texas's Jester King Craft Brewery, so tonight, this is my Thirsty Thursday means of keeping cool. As mentioned previously, saisons are low-alcohol pale ales originally brewed in Wallonia, Belgium, and were traditionally used by farmworkers to keep themselves hydrated and happy during long, sunny days in the fields. Le Petit Prince is indeed petite, with an ABV of 2.9%, and has a literary pedigree, being named for Antoine de Saint-Exupéry Bizarro allegorical novella, The Little Prince, and its planet-hopping tiny doomed despot with a heart of gold. More about that in the pairings.
Le Petit Prince pours a light, translucent golden with a thin, creamy head that falls to lacing quickly. Grassy on the nose, with aspects of malt, straw, lemon, and pilsner yeast. Perhaps a suggestion of banana. Crisp and hoppy on the tongue. Lemongrass and crisp apples, lemon zest, wheat bread, and black pepper. Lightweight, crisp, and prickley. Moderate carbonation and a spicy finish.
Originally reviewed on 06/21/12 at Bizarro Central.