Brewery: Pale Horse Brewing Co.
Style: Blonde Ale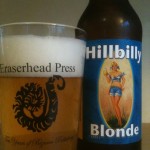 Everybody loves the Farmer's Daughter. She's one of those great stock characters of literature (and the subject of more than a few dirty jokes, usually involving a Traveling Salesman). Depending in the needs of the narrative, she can be plucky, optimistic, and naïve, or seductive, manipulative, and dangerous.
One of my favorite versions of the Farmer's Daughter story–perfect for Halloween, by the way–is Gene Wolfe's "Lord of the Land," a Lovecraftian tale of family values gone horribly wrong (with the requisite Farmer's Daughter and a soul-sucking elder thing). And it's just one of the twenty-seven tales of tentacles, terror, and madness I collected in the anthology The Book of Cthulhu.
But this is about an Adult Beverage, specifically Pale Horse Hillbilly Blonde, complete with a stereotypical Farmer's Daughter on the label. I'm always game to try a brew with a pinup. And I enjoyed Pale Horse's Hopyard Dog IPA, so I'm willing to give this one a shot…
Hillbilly Blonde pours bright, pale, peachy yellow with a fluffy white head. Nice retention, but no notable lacing. Grassy honey and malt on the nose, with a touch of peach. Bright and cereal-sweet on the tongue, with plenty of malt and fruit, but an uncomfortable yeastiness at the back of the throat. Heavy mouthfeel, syrupy. Bitter finish with perfume-y aftertaste. A little bland. Not a lot of character. Alas, Hillbilly Blonde left me wishing she were instead a Hillbilly Redhead, with just a little more attitude.