Brewery: Shipyard Brewing Co.
Style: Pumpkin Beer
Series: Pugsley's Signature Series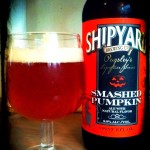 I read a Stephen King story this afternoon, which put me in mind of Maine. Which is funny, since I've never been to Maine, and really only know it via fiction. Namely, Stephen King's fiction.
But here's the thing: when Jenn and I stopped by Petaluma Market tonight on our way to pick up a pizza, I grabbed a Shipyard Pugsley's Signature Series Smashed Pumpkin Ale with Natural Flavors, figuring I'd see how it stacked up against last weekend's Kick (and loving the label). I noted that Smashed Pumpkin was from Portland, but didn't notice which Portland until I got home. You guessed it, that Portland. So, is it fuel for a Happy Halloween, or something that's Stephen King scary?
Smashed Pumpkin pours bright, glowing golden-orange, pumpkin orange, with about a finger of fast-dissipating head. Sweet pumpkin pie on the nose, nutmeg and cloves, with rich yeast underneath. Pumpkin custard on the tongue, taste following smell, adding allspice and cinnamon and spicy hops. Creamy, with light carbonation. Very easy-drinking, even at 9% alcohol. No tricks here, Smashed Pumpkin is a treat.