Brewery: Jester King Craft Brewery
Style: Saison, Strong Ale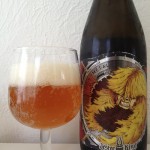 Louder, harder, faster. That's thrash metal's defining credo in a nutshell. The heaviness of NWOBHM fused with punk rock's DIY spirit and and anti-authoritarianism, hopped up on malt liquor and pseudoephedrine, dubbed onto a cassette tapes and played through the blown speakers of a Nissan pickup truck at maximum volume. For a while, from the early eighties until it peaked in 1991, thrash metal seemed like it would change the world. And leading the charge, of course, there were the four horsemen of the thrash metal apocalypse, angry young bands made up of angry young, pockmarked longhairs in black T-shirts: Slayer, Anthrax, Megadeth, and, of course, Metallica.
Classic albums followed: Hell Awaits, Fistful of Metal, Ride the Lightning. But like most musical movements, thrash metal–built on a rock-solid foundation that included Queen's "Stone Cold Crazy," Black Sabbath's "Symptom of the Universe," the Misfits' "Last Caress," and Mötorhead's "Ace of Spades"–eventually collapsed under its own weight, as angry young rockers grew into disillusioned middle-aged rock stars, discovering in the process psychoanalysis, mortality, litigation, religion, and uncomfortable politics. These days, a public appearance from Dave Mustaine or Lars Ulrich, or Scott Ian's beard more often prompts a facepalm than an impromptu throwing of the goat. I guess that's just the way it goes. But there's always going to be that part of me, hearing for the first time a third-generation cassette of Metallica's Kill 'Em All on a buddy's Walkman, and thinking, yeah, that rocks.
So tonight, I'm having a Thrash Metal Farmhouse Strong Ale from Jester King Craft Brewery. I reviewed their Le Petit Prince back in June, and I've got a bottle of their Black Metal Imperial Stout in my refrigerator, just waiting for the weather to get just cold (and Norwegian) enough to warrant a review…
Thrash Metal pours hazy burnt orange with a two-finger off-white head, a ton of carbonation, and a touch of sediment. Funky farmhouse yeast and hops, floral and grassy, dominate the nose: orange zest, lemon peel, warm alcohol. Taste follows scent, with funky spice giving way to musty (Reign in) blood orange citrus, sweet caramel, and malt. Tart and peppery against the palate, with the high carbonation balancing out the booziness. With an ABV of 9.3%, I feel it's fair to compare this one to a saison that's been touring with a metal band.
Originally reviewed on 10/11/12 at Bizarro Central.