Brewery: Valley Brewing Co.
Style: Belgian Strong Pale Ale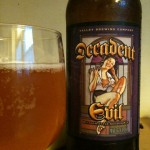 Got to like a beer with a pinup on the label.
Valley Brewing's Decadent Evil Belgian Style Golden Ale is tasty, indeed. Golden and effervescent, with little-to-no lacing on the glass. Notes of caramel and honey (more honey flavor than many meads I've had). All-in-all, an impressive California Belgian. And, at 9.5%, it's certainly "decadent," though its "evil" has yet to be proven.